November 9th, 2012
We've come through the Andes, down to a small town called Banos, which is know for it's volcanically heated hot springs and mineral baths (thus the name Banos which means Bath; not Bathroom).  Spent a good night there, then headed on to lower elevations.
The road to lower elevations is an old road, a cobblestone sort of road that has been replaced with a newer road, complete with tunnels, wide marked lanes and guard rails.  But the old road (the road less traveled, so to speak) is the one we are taking; no tunnels, it runs right along the edge of the ravine, it's almost one-and-a-half cars wide, which, in Ecuadorian thinking, is plenty wide for large buses, trucks and anything else that might need to go down that road.  This scenario makes for some hair-raising, white-knuckle drives, but some great photography.
A river runs at the bottom of the ravine, mountians on either side, volcanos in the distance.  Tributary streams leap off the sides of the ravine, cascading into the river.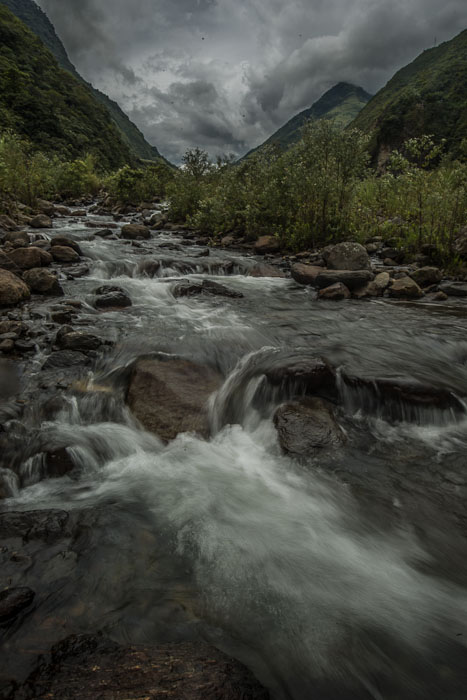 These are every where.
We keep loosing altitude, passing the town of Shell.  Do you remember a story of three(I think it was three) misionaries who worked in the jungle south of here during the late '60s? They were killed and eaten by idigenous people in this area, then later the son of one of the missionaries came back and ministered to the very people who had killed his father.  The story was told in the book, "The Point of the Spear".  Anyway, they flew their Cesna in and out of the airstrip at Shell.
We go on down to the town of Puyo, and deeper into the interior. The landscape flattens out now, as we go from mountainious areas to the flatness of the Amazon Basin.  The first time I came here this was all dirt roads through the jungle, but now it's a good asphalt road.  However, we don't make any better time than we did on the dirt roads, because, for reasons none of us can figure out, about every 100 yards they have put another set of speed bumps.  Not the big, singular speed bumps common to the US, but a series of maybe 10 small wash-board speed strips. As we go over them, everything on the dash of our bus does a little bouncy  dance then falls in the floor as the bus shakes itself to pieces.
But eventually we do run out of asphalt and now we are just on a narrow slit of a road with dense trees/brush/vines arching overhead on each side. Then finally we come to the Arajuno River and an one-lane iron bridge made of left over oil pipeline pipe. As our little bus crosses the suspension bridge it makes an incredible, loud, clanking sound.  When we reach the other side, we get out and our driver backs the bus down a steep, slippery mud incline that terminates at the river's edge. Our long, narrow canoe waits for us. We schlep all our expensive, fragile camera gear down to the water and pile the Pelican cases in the canoe.
Our group seems hesitant to get in, imagining what would happen if a canoe would tip over.  But these aren't the tippy "boy-scout" type canoes we have in Oklahoma. These are 30-foot long, tall sided, flat bottomed, outboard powered river canoes; I have never seen one of these tip over.
With everybody loaded, I push the canoe out from  the muddy bank, it drifts backward as I hop in. The canoe-driver pull-starts the outboard and the  canoe accelerates smartly up the river. It's exhilirating, at least to me.
We have had hours of bumpy, slow grinding through the hot steaming jungle, but now; in the open boat, zipping down the smooooth river, the evening cool off the water, the jungle sliding by on either side… it's a heck of a view. But I have an even better view. I sit in the very front of the canoe and look back at the ear-to-ear grins on the faces of the people I have brought down here. I've told them about this; but now they are experiencing it for themselves. It's just one of my favorite memories.
A couple of "klicks" (jungle-speak for "kilometers") up river we round a bend, and there sitting on the riverbank is Tom Larson, the owner of the Arajuno Jungle Lodge (www.arajuno.com).
Tom is from Nebraska, a Peace Corp vetern who came down here over 20 years ago and never went back (except to visit his folks occasionally). He built the lodge and lives here on a permant basis with his wife, Charro, an indigenous Kichiwa woman with a beautiful smile.
We spend the next few days at the lodge accumulating many unique wonderful memories.  But, I'm not writing a novel here, so, let's skip over some stuff.
One morning we load up in a canoe and go up river for over an hour's jouney to a tiny kichiwa settlement  called Mitador.  It's not what we would call a town; it's just some board huts, with a one-room school house/community center.  The whole community has turned out to see the visitors. Two years ago, I came this way and brought a tiny, battery-powered Epson printer. We took pictures of the people and the children and printed out their pictures and gave them to the people. They remembered me and the printer and were dissapointed to find I didn't bring it this time.
That's a very weird feeling to think you have dissapointed a whole village.
But we were all talking and photographing and fiddling around there when one of the kids brings out a sort of village pet; a baby ant-eater. And it stole our hearts; how could you not love a baby-anteater?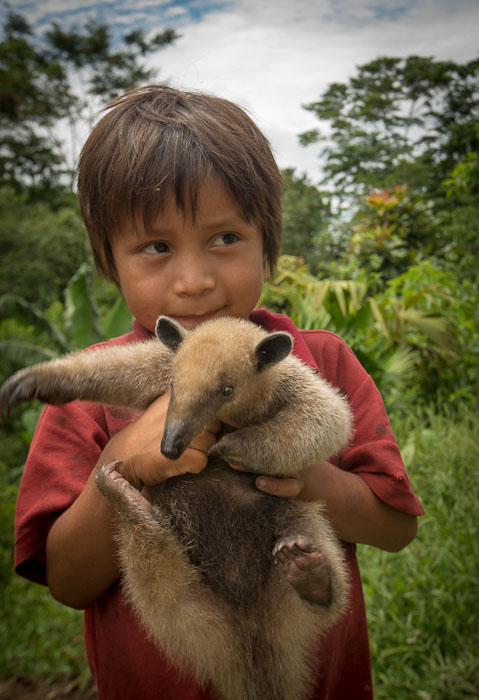 It has no teeth, but a long, spaghetti-like tounge.  It has a large  center claw on it's front feet for digging.  It's covered with a coarse, but soft hair. It moves slowly and has no fear of anyone. It almost seems affectionate.
I asked if we could visit one of the homes. An older woman,I'm guessing maybe 65 years old, offered to show us her home.  I know from an American standpoint this seems very invasive. But they don't have quite the privacy issues and boundaries Americans have. She was happy and not the least bit  offended to show us her home. I think she was proud of it.
It's a pole-structure,with a floor of chain-sawed wooden planks, and split bamboo walls, most of the roofs are thatched but her's was, I think, corregated tin.  She showed us what she was smoking for dinner…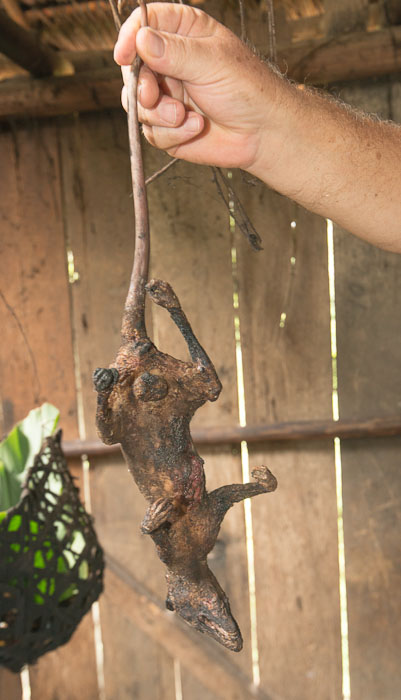 If this isn't a rat, it's something very close.
We didn't stay for dinner.
We stayed on at the Arajuno Jungle Lodge for several days, then took a canoe back to the bridge, then the bus out of the Amazon basin, over the contiental divide of South America (13,000 feet) and back into Quito. We caught the Red Eye Special out of Quito, leaving shortly after midnight. We made it into Miami four hours later. There Martha and Lucy went to Tampa and on home to Gainsville, and Jane, Bert and Cindy and me  went on to Dallas then Tulsa.
In less than 24 hours we went from standing in the Amazon Basin Jungle to our homes in America. That's not much time…but it is an incredible distance. And I don't mean in miles.
I am glad to be back home. In 2012, I shot in Uganda in March, Utah in May, Romania in September (is that right?), Belgium in October and Ecuador in November.
Tomorrow, I have an all day field trip in Tulsa with my digital photography class. On the next day, sunday…I'm going to rest.
D.H.